Dr. Ajit Jaiswal is a renowned in his field and is a good orthodontist in Ludhiana Ex- Associate Professor & Head, Department of Orthodontics, Christan Dental College, CMC, Ludhiana.
Braces and Smiles
We create your natural smile with the help of braces. Smile makeover patients at our practice love their new smiles and find themselves smiling a lot more after treatment.
Comprehensive Cleft Orthodontics
It is a uniqe center of placement of cleft lip's palate patients. Dr. Ajit is a certified cleft orthodontist from smile train U.S.A.
Dental Implants
Dental Implants are artificial devices used to replace missing teeth. WE provide this service at our center.
Oral Surgery
Oral & Maxillofacial Surgery, Orthognathic Surgery, Facial Trauma, Lift Procedure, Wisdom Teeth.
Crown and Bridge
Bridges and crowns are fixed prosthetic devices that are cemented onto existing teeth or implants by a dentist or prosthodontist.
Root Canal - Endodontics
The most common procedure done in endodontics is root-canal therapy, which involves the removal of diseased pulp tissue.
Extractions
Some patients need their teeth to be extracted in order for better oral health, we offer fast painless releif.
Dentures
A denture helps you to properly chew food, a difficult task when you are missing teeth.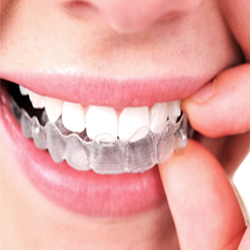 Invisalign - Virtually Invisable
Now your smile can finally say exactly what you want. The Invisalign System is a comfortable, predictable and virtually invisible treatment to effectively straighten your teeth while still letting you do the things you love. Find out more.
I have dedicated all of my time and efforts to perfect and master the art of Orthodontics so that I can bring forward my expertise to help patients with accurate, cost effective procedures which bring the desired results.